High traffic volumes require powerful servers, thus the need for a reliable web hosting company. In 2015, 2016 and 2017 Kinsta has always been ranked as the best when it comes to viral websites.
Assuming you website receives 20,000-1 million page views per day and your hosting company is always on your neck, this is the right time to come to Kinsta.But, before you decide to come, I will narrate the feeling I have towards Kinsta.
I am one of the clients of Kinsta and currently my website (www.venasnews.co.ke) receives 300,000 to 1 million visitors per day and it's growing. Before I moved to Kinsta, my former hosting company had suspended my website for exhausting its resources.
Here at Kinsta, there are several things I like but what excite me most:
No matter how many visitors your website receives, there is no way it will go down, it must be live. I have proved this because sometimes my site receives over 3,000 live visits. You can see example below.
Kinsta has the best customer service. These guys respond immediately you initiate a chat. During my time as their client, I have never waited in a chat for more than 5 minutes.
They are the greatest humans I have seen when it comes to flexibility of payment. The good thing about them is that they allow you to pay monthly and when you have an issue of late payment, they can adjust your payment deadline.
Our websites loading speed is amazing….you won't believe with all the adverts, my website loads in less than 2 seconds.
In case your website is attacked by malware, they remove it for free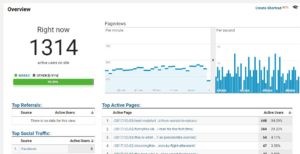 There are several other things you will enjoy once you sign up to Kinsta.But I will assure you, I have been with three hosting companies but I found a home.
If your site is growing and you are currently getting issues with Kinsta, please migrate as soon as today and forget all those issues. You can see their plans here(Click to see plans) and decide whether to sign up or not