An Indian girl has invented a rape proof underwear which has a lock, GPS alert for police and a video camera to record an attacker's face. The girl who hails from farrukhabad, Uttar Pradesh spend less than 50 pounds in creating the pant which comes with an emergency call button and a combination lock. The garment is also bulletproof and cannot be cut with a knife. The girl says she developed such kind of a pant because of the rising cases of sexual abuse, rape and child molestation in her area with women being regularly attacked in the streets every day. ''I have put a smart lock that will not open until you key in the password. I have also installed an electronic device that is equipped with GPS and a calling facility. When someone tries molesting a woman or a girl, this device will send out messages to the relatives of the victim and also to the police''. Says the girl.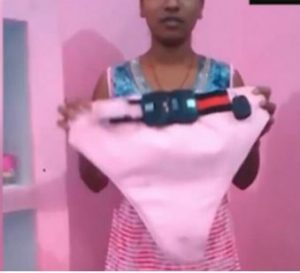 She has also installed a video and audio recorder so as to capture and store the faces of the rapists. She also added that a woman doesn't have to wear the underwear all the time she can wear it when she is traveling alone or if she finds a place she is going to unsafe for her. This will help save you from wicked men who just want to violate your dignity. She quoted.
If you are under attack, the victim should press a button on the device which would immediately call a pre-set emergency number which will signal the authorities and you can get help. The garment however, has been taken   to the national innovation foundation in Allahabad for patenting.