Tonsil stones, or tonsilloliths, are hard white or yellow formations that are located on or within the tonsils.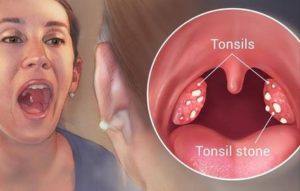 It's common for people with tonsil stones to not even realize they have them. Tonsil stones aren't always easy to see and they can range from rice-sized to the size of a large grape. Tonsil stones rarely cause larger health complications. However, sometimes they can grow into larger formations that can cause your tonsils to swell, and they often have an unpleasant odor.
>>Potential causes of tonsil stones include:
_poor dental hygiene
_large tonsils
_chronic sinus issues
_chronic tonsillitis (inflamed tonsils)
Preventing tonsil stones
>>If you have tonsil stones, they may occur on a regular basis. Fortunately, there are steps you can take to prevent them. These steps include:
_practicing good oral hygiene, including cleaning the bacteria off _the back of your tongue when you brush your teeth
_stopping smoking
_gargling with salt water
_drinking plenty of water to stay hydrated. Now you know!