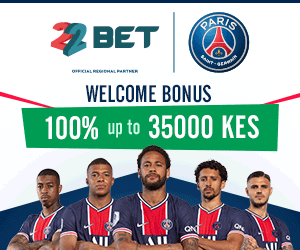 We have a list of Bets for today's matches we consider high risk bets' but are highly rewarding.The list comprises of 5 bets with each bet giving you at least 5 times your bet amount.
If you spend Ksh 100 on each of the five bets and get two bets correct, you will get a profit of not less than Ksh 2,000.
The first option is that Liverpool will win first half and los in full time. This option attracts and odd of 32, which means if you place Ksh 100 in this bet,you will win Ksh 3,200
Another option is between AC Milan and Udinese.Assuming Udinese draws with AC Milan in first half and Udinese wins in full time,you will earn Ksh700 if you bet with Ksh 100.
Finally,what if Juventus Juventus wins in first half and draws with Sassuolo in full time?The result will mean that you take home Ksh 2,300 at the end of the match.
Remember,these are high risk bets which can earn you unexpected amount if you opt to take a risk.
To minimize the risk of losing your money,join 1XBET today and get 200% bonus on your first bet amount.Click here to join