Outspoken MP ,Millie Odhiambo came face to face with reality of life .A young Kenyan man who wanted to test her things sent Millie a message where he indicated he wanted to tell her something urgent. In response, the MP arranged they discuss the matter the following morning.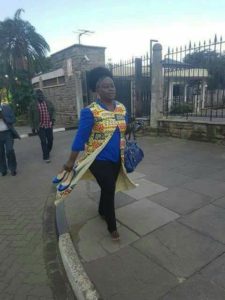 On the fateful day, the following transpired:
"When you are a public figure you have to listen to all manner of things. Like a young man calling severally yesterday on an " important" issue. I am not in a position to deal and presuming he is my constituent with a genuine need i tell him to call tommorrow at 11am. He calls faithfully today. " I have seen how beautiful you are and I want you to be my girlfriend". From profile picture he looks the age of my grandchild. I told him corporal punishment is outlawed but i may just seek reintroduction to allow his parents unleash common sense and decency into his head"
Millie Odhiambo is barren, perhaps the reason the man was confident enough that he might do wonders.