Several gamblers are accusing Betika of cancelling their bet slips without their knowledge. The company is yet to explain why they are quick to take money but when a player's bet is about to win, they cancel the bet.
Below are opinions from those who have played on Betika since last week:
RM Mercy Mimi niliwekea game ya Vietnam Jana over 2.5,venye over iliingia nikaenda kuangalia mbona silipwi nikakuta walichange game ati vasco Dagama na game iko checkslip nkt..
Vincent Kiprono Korir They cancelled my bet too. When the last game was 90mins 3-1 which i had given ov25, . That was the only match remaining ndio nipate pesa.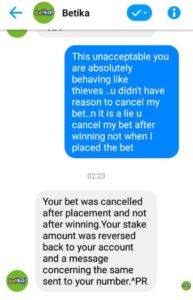 Eliud wanacancell bets😂😂😂wakiona unawin design noma bet inaumwa cancel
É Ñ JuaLez Cálido Betika Ni Manugu Sana..Nilispend Good money Kutafuta HTFT Mbili..Alafu Wanacancel BET YANGU Hivo Ju hizo HTFT Ziliiangiana.Aahhhhkk..Fuck
Waswa Junior I TOLD YOU PEOPLE BETIKA DOES NOT PAY WHEN YOU WIN,ESPECIALLY BIG AMOUNT.AM A VICTIM OF THIS AND I HATE THEM
Oliver Odida Dennis Agayi ,,betika is fake,,they cancelled my bet after winning full time,, hoffenheim 3_2
Vdj Litt nko na evidence ngoja nilete…..betika ni weziii they councled mine some time back
Betika has not responded to the claims.
One website that has not received complains so far is Odibets.The betting company has high odds and pay promptly.