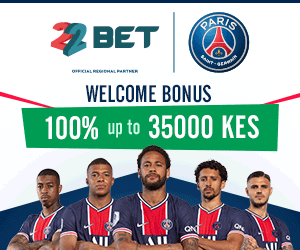 I am not sure whether it's true but this post appeared on Facebook about an individual who placed a bet on Betika but his celebrations were cut short after realizing the bet was cancelled without his knowledge,here is the case:
"I saw many of my friends complaining here about Betika and I have confirmed that this betting site is indeed a scam..If you place a bet and your potential winning is more than 15K and luckily when that bet goes through,you get an update on your account that.."bet cancelled"..yet you didn't cancel it,..I have realised that betika only pays small winnings only,large amounts bets are cancelled without your knowledge..
BE WARNED
We hope SPORTPESA will resume soon..
Confirm if it's true……."
Below are comments from other members:
Wycliffe Shiyuyi Alukwe My bet was cancelled without my knowledge,had placed three games with a stake of 500,all the three games came as i had predicted;only to be shown,null null"dint know the meaning of these fucking words" baadae nikaona bet cancelled! Washienzie sana
Valenciah Vann Goddie If Matiang'i failed to shut such scam company like this then we Kenyans gonna shut it up,.using the law and they will compensate everyone whom they tortured before they exit the market
Vinny Musyoka niliweke barclona na arsenal gg,liverpoll gg,tot gg.stake 2000.lakini wapi?washenzi hawa.
Born Face I'm also a victim of cancellation when about to win big.
I stopped betting with them since then.
Gervan Ouma Very true but if they don't cancel bets they Change for you result,say u placed 1 for home win, and the outcome is 1 home win, they will change to x telling u that you played for a draw not a win
Here are positive comments about Betika
Meshack Meli That is not true you said about betika i have been betting since in this betting company but all i won was paid.
Jim Qariuqi If its true peleka complaints to competition authority of Kenya. Watakusaidia.
Don't bother with bclb. Its Useless
Prince Sirma Attention seeker. I won 21k during the weekend and I placed 5k.
Magut Kirwa Its either the game had started the moment you were betting bure mimi sijai ona kitu Kama hii
Magut Kirwa Acha kuaribia Betika jina.its one of the Best site to bet on.i have never witness such a lie..
Martinez DE Valencia You all need to sit your a*** down en wait for the so called sportpesa!we've been betting for years now with betika en no inconveniences experienced a part from apparently the slow loading of the App though rarely!nyinyi mlikimbilia Betika desperately juzi na hatutapumua uku,kwani kuna wenye bets zao ziukansoliwa na zetu ziugothru?!ukishindwa kubet feelings msee ajiekee!
You can click here to follow the conversation
We understand that every betting site has its own challenges, Betika is not exceptional. The major reason why bets are cancelled is because your bet was placed after some of the games had already started. We understand that Betika is one of the best betting sites in Kenya and they follow the law to the latter.