Kibra Lady scoops big on Odibet with Sh50
A lady from Kibra in Nairobi county scooped big on Odibets after winning sh. 283,856 from a Sh50 stake.
Agnes Nafula, who joined the betting firm on July 16th, predicted 8 games accurately with odds of 7096.41.
"I am very happy about this win and will give the amount to my husband so he can come up with a plan on how to use it constructively," she said, adding that her priority is her children's education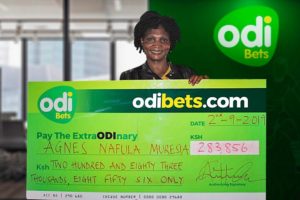 She added that one of her children would be proceeding to university this year and the prize money will go a long way in helping with school fees payment.
"My strategy is to always place analysed bets responsibly and i'm very glad I won this time round," she said when asked about her betting strategy.
"We encourage our customers to take full advantage of the multiple offers we have on Odibets to boost their wins and stake" said Aggrey Sayi, the Odibets country marketing manager.
We have the 30% cash back on the first bet lost for the day, two free bets to new customers, free deposit bonus on amounts over 49 bob among others" he added while encouraging Kenyans to bet responsibly.
Odibets is one of the few tax compliant betting firms still operational in Kenya and has churned out the highest number of big winners who place small bets. You can visit the Odibets website here.