Airtel Money pays agents in terms of commissions. If a client withdraws Ksh 500, the commission is Ksh44.In case a client deposits Ksh500, an agent earns Ksh30 in commissions.The commissions are paid based on the amount of money a client is withdrawing.
The commissions are paid as follows:
COMMISSION STRUCTURE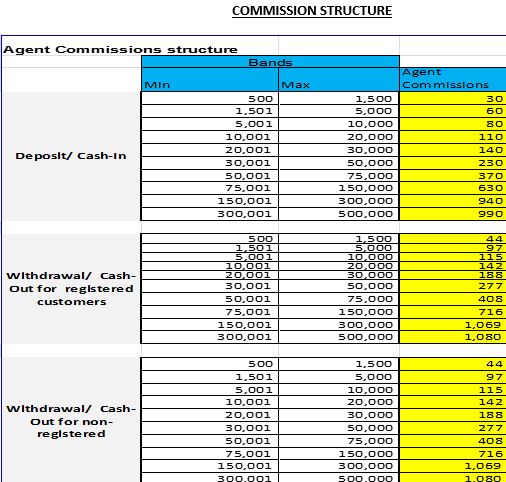 Distributor earns 20% of what the agent earns in commissions for every agent that transacts in his territory.
Agent Earns 650 rwf if he registers a customer and the customer does first cash in of 1000 and above.
If you want to become Airtel Money agent, here are the requirements:
Agent Requirements
Copy of National ID (Compulsory)
Copy of Business license (Patente) – (Compulsory)
Float 75,000 Rwf e-value + 75,000 cash for Kigali agents
50,000 Rwf Upcountry and 50,000 Rwf for Upcountry agents
Fully filled & signed application form.
Map of location of Agent (Draw at back of Agent application form).
Tin Number – (Attach copy of Tin Certificate)
Description/Type of Biz of Agent –