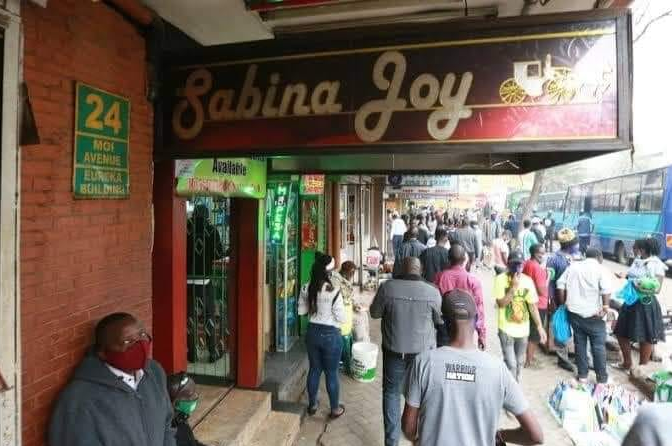 Sabina Joy is one of the most popular club in Nairobi, it's located adjacent to Lazarus Hotel and KBS bus stage. The club is so popular that even some senators and MPs frequent it Many Kenyans ask why the club is so popular among Nairobi men yet it's not one of the best in terms of infrastructure.
There was a time I went for a short call, it was free. I didn't want to pay Kanjo Ksh10.I noticed one thing, the club does not have a door. Immediately after entering, I found beautiful girls lining up for clients—some told me,"bei ya jioni,leo ni 50".As I passed by, everyone was grabbing my trouser ready to give me the thing. I got scared because it was my first time to be in such a place. But the man who took me there started touching the girls randomly—he almost took one to a room.
While emptying my third leg,I heard from a room,"aki hii ni nono,usiweke yote—ama ongeza pesa".Kidogo to,"wow,maaam,achiii,chogochogochogo" .Within5 minutes, a man was coming out of the room while zipping his trouser. He had paid Ksh 50 only for the service.
Ladies at Sabina Joy are in plenty, over 100 in a small room. When you enter, you pick the same way you pick tomatoes. They charge between Ksh 50 and Ksh 2000 per shot. From date 25 to date 10 they are expensive, they know this is the time people have earned their salaries.
A client negotiates with a lady before they enter a room. You pay Ksh100 to Ksh200 for the room before you get the service. You aren't allowed to stay in a room for more than hour. If you stay more than one hour, you'll be required to pay extra money.
At Sabina Joy, beer is cheap and customers are many. Men love the joint because kuwekewa mchele ni rare. It's also closer to every stage in Nairobi.
One thing I observed is that the bar does not close, even during curfew hours.Men who don't have anything to do in CBD at night find themselves in Sabina Joy..they dance,sleep with girls,drink beer and wait for the next day.