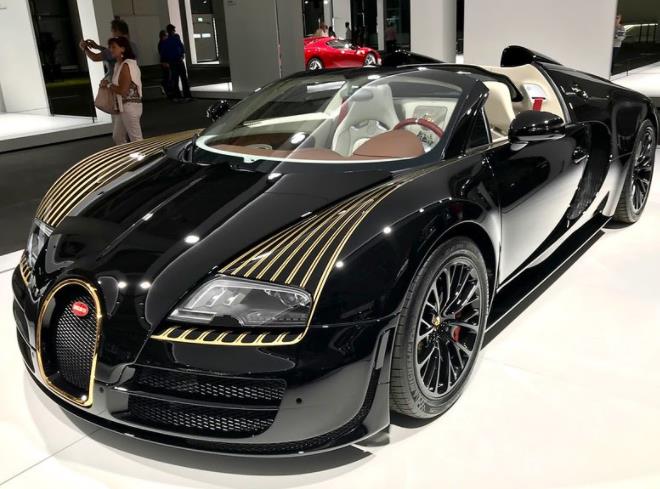 Who are the Kenyans with the most expensive cars?Rich folks in Kenya surprise us with dream machines loaded with high-end features and functions. They are driving comfortably yet dominating at the same time. Most of these pricey machines are either owned by entrepreneurs who have built a multi-million empire or wealthy politicians. Therefore, renowned personalities always pop up whenever fancy cars are a point of discussion. Below are honorable mentions of Kenyans with the most expensive cars. Let's dive in!
1. Bugatti Veyron Grand Sport Vitesse – Kshs.233 million
Being one of the fastest cars globally, it is also the best car in Kenya. Furthermore, the most fantastic news about this car is that it can hit speeds of up to 410km/h, reaching a high rate of 0-100km/h in just 2.6 seconds. The reports of the vehicle being spotted in Mombasa, Kenya's coastal city, broke the news of a Bugatti Veyron in Kenya.
The Bugatti Veyron Grand Sport Vitesse is undoubtedly the most expensive car in Kenya. The vehicle is worth Kshs.233 million. That means you can also get a helicopter with that amount of money. The owner remains discreet for his reasons.
2. The President – Mercedes-Benz Pullman S600 Kshs.160 million
A Mercedes-Benz Pullman S600 is easy to spot in Kenya as it is usually used as a state car. The current head of state, President Uhuru Kenyatta, is using it. With its unique features such as the fantastic speed with stability and running on a flat tire, it is not surprising to see dignitaries and politicians are mainly reserved to this vehicle.
The car is worth Kshs.160 million because its value is because of its stated, excellent performance. Safety is one of the top qualities of the vehicle as it can bounce back bullets.
3. Raju Sanghani – the Rolls Royce Phantom Kshs.45 million
Rolls Royce Phantom is one of the latest cars in Kenya. There is not only one vehicle in the country, but a few exist within. The one spotted on several occasions on Kenyan roads belongs to a businessman, Raju Sanghani.
Depending on your preferences, you can buy a very stylish car with a convertible counterpart or an enclosed roof. Anyone willing to buy this vehicle will have to cough up Kshs.45 million. All this money is to live a classy life driving one of the trending cars in town.
4. Jimmy Wanjigi – Rolls Royce Ghost Kshs.45 million
Rolls Royce Ghost has not been left out with various the most expensive cars in Kenya or the world. It is one of the most powerful vehicles having a V12 engine that has a 6592CC engine. A Kenyan billionaire, Jimmy Wanjigi, owns one which is believed to cost upward of Kshs.45 million in the Kenyan market.
This car model has a five-seat capacity and can hit a speed of 100km/h in four to six seconds with a maximum speed of 250km/h.
5. Samia Barry – Lamborghini Murcielago Kshs.45 million
In Kenya seeing a Lamborghini is nothing new, as several of them have been spotted in Nairobi. The most common type of this vehicle is one with a sleek green. Lamborghini Murcielago might not be the most expensive vehicle in the country, but you would want to bet with its speed. It can fight for the fastest car title in Kenya even if the Bugatti Veyron might win but not without stiff competition. It outshines because its quality and functionality are excellent and effective. If you are dreaming of driving super vehicles, purchasing a Lamborghini is not a bad idea for a start.
A new Lamborghini Murcielago is Kshs.45 million worth.
6. The Ferrari 612 Sessanta Kshs.45 million
If you want to own the most expensive car in Kenya, you must dig deep into your pockets. Not many Kenyans can afford this, but if you are one of them, you are considered among the elite people in society. Ferrari 612 Sessanta is among the most expensive car collection with a top speed of 320km/h owing to its V12 engine accessed through a 6-speed man w/OD transmission.
This monster of a car cost up to Kshs.45 million. The owner of this premium car is unknown.
7. Ali Hassan Joho – the 2015 Ferrari 458 Italia Convertible Kshs.26 million
This vehicle might not be the modern version of its series, but the 2015 Ferrari 458 Italia Convertible is even now pretty expensive. Several business owners possess this vehicle, but its popularity comes from being owned by politician Ali Hassan Joho. On multiple occasions, the car has been seen in Nairobi.
One Ferrari 458 Italia Convertible costs Kshs.26 million. This is the best vehicle Ferrari motors has built so far.
8. Chris Kirubi – Bentley Bentayga Kshs.25 million
To add to the list of expensive cars in Kenya, Bentley Bentayga is the ninth costly vehicle today in Kenya. One of the most remarkable things about this car is its fantastic body. A well-known billionaire, Chris Kirubi, owned one. The starting price of this vehicle is Kshs.19 million, and in Kenya, its price can shoot up from Kshs.25 million to Kshs.30 million due to all the expenses and import taxes involved.
Bentley Bentayga has the perfect balance of performance and gives you a genuinely thrilling drive availed with a speed of 100km/h in 4.5 seconds having a top speed of 290km/h.
9. Ronald Karauri – the Mercedes-Maybach S600 Kshs.20 million
Though the first Kenyan to import a Mercedes Maybach was the late billionaire Chris Kirubi, Sportpesa CEO Ronald Karauri also owns this prestigious car. President Uhuru Kenyatta is another fan of this car model. Its coolness brings out the taste of the man behind those wheels. It is among the most unique and classy cars in Kenya. Having this type of car in Kenya is a luxury out of this world.
The rough estimation of a Mercedes-Maybach is about Kshs.20 million to Kshs.50 million. All the luxuries this car carries are not in vain. You get to drive comfortably and still get surrounded by the most soothing environment.
10. Raju Sanghani – American Cadillac Escalade Kshs.40 million
The Cadillac Escalade is an American-made Luxury Large Service Utility Vehicle (SUV). It's comfortable, opulent and it provides acres of space inside. It boasts a top-notch interior, user-friendly infotainment features, plush, roomy seats, and massive cargo capacity. Also, it is a comfortable ride which is why the super-rich Kenyans have a tender spot for this incredible SUV. The Cadillac Escalade is estimated to be worth around 40 million Kenyan shillings, and one proud owner of this American machine is business mogul Raju Sanghani. The car is also favored by the political class, including Mike Sonko.
11. Aston Martin DB9 GT Kshs.29 million
The Aston Martin DB9 GT is a voluptuous and alluring luxurious car made in Britain. The rich are adrenaline junkies, and the DB9 GT gives their pulse a run for their money, especially with its trademark growl beneath the hood. It boasts of a 5.9-liter V-12 make with 540 horsepower. Aston Martin DB9 GT is more user-friendly and has six-speed automation for its rear wheels. It has an estimated value of sh 30 million, and Governor Waiguru's son owns one of these lively sports cars.
12. Donald Kipkorir – Range Rover Sport HSE 2016 Kshs.24 million
Flamboyant Nairobi lawyer Donald Kipkorir is well known for his flashy lifestyle, often depicted in his social media accounts. Among his many cars is the Range Rover Sport HSE 2016, which is estimated to cost upwards of sh. 24,000,000. The 2016 Land Rover Range Rover is a stylish, athletic, and luxurious well-rounded premium SUV. This expensive car features comfortable seats, high-end materials, and a V6 engine that produces 440 horsepower.
13. Maina Kageni – BMW x6 Kshs.19 million
Adding to his luxurious cars, a famous Classic FM presenter, Maina Kageni, purchased a BMW x6. He is a car enthusiast, and his love for cars made him among the first people to buy expensive cars. The BMW x6 comes with a high-quality, entertaining driving power and a luxurious cabin. The vehicle is powered by a twin-turbo V8 engine having a maximum horsepower of 523hp.
The value of a BMW x6 is Kshs.19 million due to its sophisticated lifestyle. It is one of the cars that makes you appear on the list of wealthy Kenyans.
14. Kevin Mulei – BMW i8 Kshs.18 million
BMW has been in the game for quite some time, and their latest addition, the hybrid sports car, has increasingly become popular. This is because of their electricity's performance-enhancing abilities, good looks, fast speed, and eye-catching. The BMW i8 has very few owners globally, with only a limited number. Kevin Mulei is a Kenyan who owns this gem, and he was the founder of Groove Awards which elated most artists into the celebrity limelight. The BMW i8 goes for a whopping sh 18 million. It is a usable everyday car though limited storage, which is a non-issue for the rich.
15. Toyota Land Cruiser VX VDJ 200 series Kshs.16 million
This car is easy to spot anywhere, especially during campaign seasons. It has quality features such as a 4.4litrer V8 engine and off-road capabilities with luxury at the same time. Deputy William Ruto, Martha Karua, and Musalia Mudavadi are among the politicians who used this car. This classy car is estimated to be Kshs.16 million.
16. Akothee – Mercedes AMG SL63 Convertible Roadster Kshs.15 million
There is no shortage of luxury cars in Kenya, which is evident with the Mercedes AMG SL63 Convertible Roadster. It graces the CBD in Nairobi as Akothee showcases the epitome of personal luxury with this car. The SL63 hasn't disappointed in any way. It has an exclusive exterior design. The interior design is full of luxury and tech, while its performance is that of the V8 all the way. This car is a jack of all trades, and to own it, you need to part with sh. 15,000,000.
17. Raju Sangani – Porsche 911 Kshs.14 million
The Porsche nine eleven is a flawless, expensive, and rare sports car as it is casually known. This car is owned by the big boys of Nairobi, Kenya, who are wowed by its athleticism. Its interior is lavishly appointed, the driver has a low seating position but excellent outward visibility. Raju Sanghani can't get enough of expensive cars and music to your ears; he owns the Porsche 911, which goes for about Kshs. 14 million.
18. Jeff Koinange – Mercedes G Wagon Kshs.10 million
The 4×4 vehicle has impressive off-road abilities; meanwhile, most owners have never used them, they come as a standard on every G wagon. Regardless of its price, only a few Kenyans can afford it. The popular news anchor Jeff Koinange, President Uhuru Kenyatta, and influential lawyer Ahmednasir Abullahi are among the few people who own it. President Kenyatta has been spotted a couple of times driving himself in it in Nairobi.
For those wondering what is the price of this Mercedes G Wagon, worry less as it costs upwards of Kshs.10 million.
19. William Kabogo – Jaguar F Coupe Kshs.9 million
Politician William Kabogo is known for his vocality and his great love for classy motorbikes and cars. He has been spotted riding on his prestigious cars, but Jaguar F Coupe wins the prize of his best car collection. The vehicle is very comfortable and has a luxury interior. Another noticeable features of this car are the sports seats.
Jaguar F Coupe is estimated to cost Kshs.9 million.
20. Jaguar – Jaguar XJ KShs.7.5 million
Jaguar XJ prices varies according to mileage, car's condition, and model of the year. Jaguar is one of the wealthiest musicians in the country, and he spends his money on valuable things such as super machines. He doesn't mind buying expensive cars, and Jaguar XJ is among them. The vehicle made him cough up Kshs.7.5 million.
Bottom line
Owning one of these prestigious machines puts you on another level of class that commands a lot of respect compared to other machines. The presence of an SUV on the highway is captivating enough, leaving onlookers in awe wherever they tread. If it left you yearning for more and wondering who the owners are and how much they cost them, look no further; the list is endless, but above we have mentioned several of them.