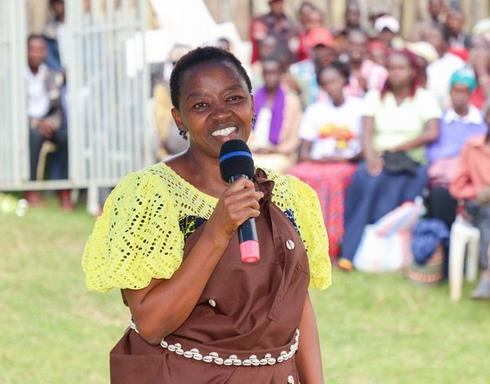 DP Ruto's dear wife Rachel Ruto has narrated how she turned dirty borehole water clean by spraying it with salt and praying hard. Comparing herself with Elisha of the Bible, Rachel claimed that through prayers and salt water she ended the perennial problem of dirty water in their Karen Borehole.
She said the problem had been existing since 2003 when they built the borehole. They spent millions and millions of money to purify water but in vain. Then one night while sleeping, she remembered how Elisha did miracles through prayers. She took salt from kitchen, sprinkled it in the borehole and prayed daily. Then one day they discovered that the water was very clean for consumption.
Mama Rachel said: "When the Lord spoke to me about this verse and this story of Jericho in 2018, I remembered about our water here in Karen. I know there are many people who live in Karen; and, at least for us, where we live we drilled a borehole in 2003, and when the water was taken to be checked by the labs, they told us that we could not drink that water as it was until it was purified."
"So my husband, the Deputy President, went into a venture and bought very expensive purifying machines. And that is what we have been doing, purifying the water all the time before drinking or using it. And we kept changing the filters and that kind of thing. But the Lord kept reminding me about this word and what Elisha did. And I wondered, suppose I go pray for this water, is it possible for it to be purified?"
She added: "Recently, the purifying machines got a lot of problems, and I remember we spent a lot of money to buy and I had called my team from Eldoret to come and do it for us. And just after one week, again the water was not clean. And our boy at the residence was getting very frustrated."
Rachel,who is the mother of prayers in Kenya,says through her faith many things have happened in her family.She has also vowed to pray for DP Ruto to become president.