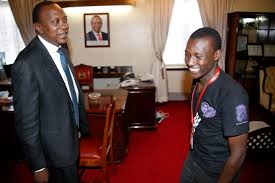 Early on Thursday disturbing news spread like bush fire that Uhuru's "son" is a stressed boy and immediately state house was informed of the developments.Apparently, Otonglo's mother was detained in hospital because she could not afford hospital bill.
The family can now afford a smile because the president has taken a step and settled the bill.Responding to the good news the elated mother had this to say;
"We are really grateful to the presidency for helping us clear mum's hospital bill," Suzzane Owira, the family representative said. Mama Owira could not hide her joy:"I am so happy. I want to thank the President for clearing the bill. Though I was reluctant to contact him because he is already paying my son's fees, he acted immediately I contacted him." "I am humbled. I thank God for his kind heart," she said.