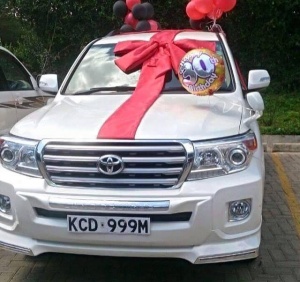 A Kenyan Woman surprised her 30 year old husband with a brand new Toyota Landcruiser VX V8.The information went viral on social media since this is not a normal phenomena in this part of Africa.
The woman identified as Ms Laura Akunga-Muriithi presented the keys to her husband in the presence of her family and friends.The car which was bound in a red ribbon with red and black balloons is an envy of many considering its cost and comfort.
Mr Mark Mwenje,the woman's husband was overwhelmed with joy after receiving the keys to the car.It's a special moment for a man to be appreciated by his wife especially with a special gift like a car.Mwenje could not hide his tears as they  freely dropped as he kissed his wife several times as he vowed to return a hand.
Mr Laura wrote this on her Facebook account after the event:
"To The Most Amazing 30 Year Old I Know, My Husband, My Best Friend, My Ride Or Die, Number One In My Life. Here's To Another Happy 30 Plus Years Full of Fond Memories With Our Families And Friends. Here's To Wives Spoiling Their Husbands Because They Deserve The Very Best And They Are Truly The Better Side Of Us. At Least For Me, He Brings Out The BEST In Me. He Is Literally My Better Half. Happy 30th Birthday Babe."