Eddy Ndichu,Janet Mbugua's husband rides a brand new Audi,which costs Ksh 10 million.The Standard Chartered Bank employee was spotted cruising the toy towards the company's parking lot,attracting the attention of on lookers.
Eddie Ndichu Married Janet Mbugua in a colorful ceremony held at Chaka Ranch.Majority of Kenyans heard the name Ndichu for the first time during the wedding period.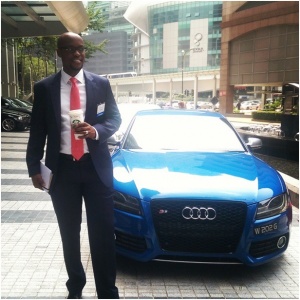 Ndichu works at Standard Chartered Bank and he is among the few Kenyans who earn at least Ksh100,000 a month.