News spread like bush fire that a Sh.200 million Bugatti Veyron  has arrived at JKIA and it was imported  by a Kenyan.Though there are Range Rovers,BMW,Subaru and Chrysler,no Kenyan has ever bought a Bugatti.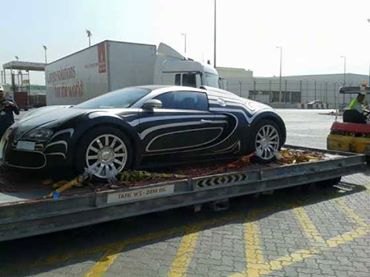 The car arrived yesterday at JKIA,and attracted the attention of workers at the busy airport.This particular car,was offloaded and taken for service n Westlands,Nairobi.
Kenyan number plates were later put onto the car,ready to move on the Kenyan roads.But one thing that surprised many is that the machine consumes at least Ksh5,000 worth of fuel in a single day.To ignite and engine,the car needs at least one liter of petrol.