A two-headed piglet was found on the street by a resident in Tianjin's Xinkou town, China on Thursday where it was aimlessly stranded.
The piglet which is 5 days old attracted a huge crowd who came to witness the eighth wonder of the World. Later, one of the numbers in the crowd decided to adopt it.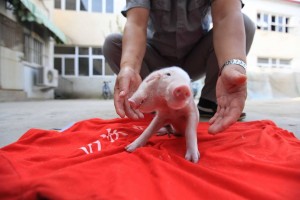 Since it has two heads, the piglet cannot stand on its own; it has to be supported.
What's amazing is that the five day old piglet has attracted thousands of people who are eager to take photos with it and upload on social media.