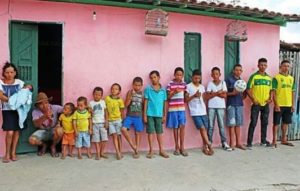 Irineu Cruz and wife Jucicleide Silva are frustrated after living together for 20 years without giving birth to a baby girl. The couple has 13 boys, something that gives them sleepless nights.
The family, who live in Concei ao de Coit, Brazil, has brought to this world babies year after year.Every time pregnancy is realized,the couple thanks God for the blessing and go ahead to ask for a baby girl,but frustrations start when the doctor says "it's a boy again", after delivery.
Irineu Cruz,the head of the family says after years of disappointment:
"I've always admired players like Rivaldo, Roberto Carlos, Ronaldinho and Robinho, all the best footballers seemed to have a name beginning with R, so as more and more boys came along, I decided to celebrate South American football by naming my sons after the players I liked."
The family has given their sons the following names:
Robson (18), Reinan (17), Rauan (15), Rubens (14), Rivaldo (13), Ruan (12), Ramon (10), Rincon (9), Riquelme (7), Ramires (5), Railson (3) and Rafael (2).