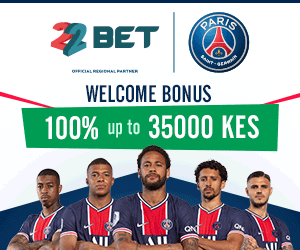 Companies and individuals providing betting tips have increased significantly over the past one year, making the business lucrative. Before we discuss anything, I warn you not to spend money on betting tips.
I met a friend last month who had just purchased betting tips for multi bet and single bet games. The man spent Ksh500 on the tips. As we waited for Arsenal to play, the man was sure of winning Ksh 10, 200, based on the tips.
The game started, we kept on drinking as we watched. First half was over, the result was still a draw. The second half started. The man ordered for the second beer, a third one and finally the fourth one as he waited and cheered—I helped him cheer his team,Arsenal.In the 63rd minute Arsenal was scored. Our conversation ended prematurely, and my friend kept a distance. His face turned black.

In the 75th minute, Arsenal was scored again and a third one went past Arsenal goalkeeper in the 88th minute. My friend stood, shook his head in despair, throw his hands on air and ran towards the door like a possessed pig, without uttering a word. I never saw him until the following week…he even switched off his phone.
After what I saw, I became curious to know how these betting gurus come up with betting tips. I have since then realized they go to popular sites online which provide betting tips. They pull the tips as they appear on the sites and send you for money. Gullible Kenyans pay for that.
These guys also advertise on popular Facebook pages, where they assure their followers that the tips are more than 100 % accurate, only for the followers to realize the gurus are just doing guess work.
What you should know is that in gambling, no one is sure of the outcome as every player is there to try his luck. You are always advised to use trial and error method to come up with the best combination instead of paying someone who is also doing trial and error method to sell you tips.
What I have noticed: many people have become victims of these betting gurus who provide betting tips. But when they pour their frustrations on the Facebook pages, the Facebook administrators delete the comments and only leave the comments which do not reflect the real situation among customers. Those who pay finally quit betting.