Sportpesa Jackpot promises over Ksh 100 million,where sometimes crosses the Ksh 200 million mark.To win this jackpot,you have to carefully select the possible wins.
Sportpesa is a trending football betting game in Kenya that has made several millionaires since the company's inception in 2013.However, several people have incurred losses in the process of chasing millions in the weekly jackpots.
In order to avoid making losses, you must play with some tricks and cautiousness it deserves. First ensure you place a bet in a game that you are more than 90 percent sure the team you are bidding to win will actually win. Never take chances as you will lose all your money in betting.
Some of the teams that have more than 90 % chances of winning are Barcelona, Real Madrid, PSG, Manchester City and Bayern Munich,bit sometimes they may fail you.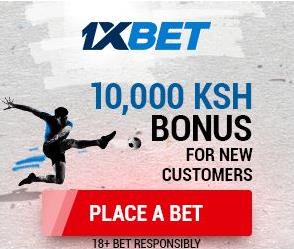 What I have noticed over time is that teams in Brazil,Australia,Portugal and China;also women leagues guarantee wins for your bets.So if you are a serious gamble,you better avoid English,Italy and Spain leagues for other less popular leagues where you can earn sure bets.
If you want to win money weekly, ensure you select both teams as winners and you won't miss at least two of them winning. Chances of losing money here is minimal. Of course the money you'll win with the aforementioned teams is small at least you will be assured of walking home with some cash.
If you make a mistake of selecting teams which are too close to each other in the league table standing, chances of losing your money is actually 70 %.Remember there are high chances of both teams playing for draw-very high chances.
Sportpesa knows that you will go for teams with an odd of at least 2.0, meaning you will win double the amount you bid for. Shockingly, more than half of those who bet such games lose their money, which makes sportpesa richer.
If you want to win money in Sportpesa jackpot, don't play it once-ensure you play at least 3 times.First pick the teams you are sure they will win their matches.In most cases a jackpot of 13 games has 6 sure games-pick these games and gamble with the remaining 7.Now once you have narrowed down to 7 games,you will select different games for each bet,which you will top up on the sure six games.Doing so will ensure you win at least 10 games out of 13 or all the thirteen games.
You should be aware that the more you play the higher your chances of winning. And since sportpesa is a genuine game, you will one day win a jackpot.
Sportpesa is gambling game. Please avoid betting with huge amount of money even if you are sure your team will win. In football, anything is possible.