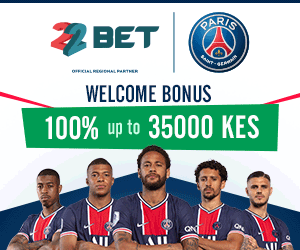 IEBC has released statistics of registered voters per County for the August 8, 2017 elections. Nairobi County leads with a total of 2,250,853 voters, followed by Kiambu County with a total of 1,180,920 registered voters.
Lamu County has the least number of registered voters with a total of 69,776 registered votes.
Kiambu County, which is President Uhuru's stronghold, has registered more voters than combined votes for Siaya, Kisumu and Migori.
A total of 19,611,423 voters are expected to cast their votes in the 2017 elections.
Below is the summary of votes per county
REGISTERED VOTERS PER COUNTY FOR 2017 GENERAL ELECTIONS
| | | | | |
| --- | --- | --- | --- | --- |
| COUNTY_CO | COUNTY_NAME | VOTERS | | NO. OF POLLING |
| DE | | | | STATIONS |
| | | | | |
| 001 | MOMBASA | | 580,223 | 934 |
| | | | | |
| 002 | KWALE | | 281,041 | 612 |
| | | | | |
| 003 | KILIFI | | 508,068 | 988 |
| | | | | |
| 004 | TANA RIVER | | 118,327 | 307 |
| | | | | |
| 005 | LAMU | | 69,776 | 167 |
| | | | | |
| 006 | TAITA TAVETA | | 155,716 | 354 |
| | | | | |
| 007 | GARISSA | | 163,350 | 381 |
| | | | | |
| 008 | WAJIR | | 162,902 | 434 |
| | | | | |
| 009 | MANDERA | | 175,642 | 401 |
| | | | | |
| 010 | MARSABIT | | 141,708 | 384 |
| | | | | |
| 011 | ISIOLO | | 75,338 | 195 |
| | | | | |
| 012 | MERU | | 702,480 | 1,473 |
| | | | | |
| 013 | THARAKA – NITHI | | 213,154 | 625 |
| | | | | |
| 014 | EMBU | | 309,468 | 710 |
| | | | | |
| 015 | KITUI | | 474,512 | 1,454 |
| | | | | |
| 016 | MACHAKOS | | 620,254 | 1,332 |
| | | | | |
| 017 | MAKUENI | | 423,310 | 1,060 |
| | | | | |
| 018 | NYANDARUA | | 335,634 | 654 |
| | | | | |
| 019 | NYERI | | 456,949 | 917 |
| | | | | |
| 020 | KIRINYAGA | | 349,836 | 659 |
| | | | | |
| 021 | MURANG'A | | 587,126 | 1,131 |
| | | | | |
| 022 | KIAMBU | | 1,180,920 | 1,963 |
| | | | | |
| 023 | TURKANA | | 191,435 | 644 |
| | | | | |
| 024 | WEST POKOT | | 180,232 | 712 |
| | | | | |
| 025 | SAMBURU | | 82,787 | 284 |
| | | | | |
| 026 | TRANS NZOIA | | 339,622 | 639 |
| | | | | |
| 027 | UASIN GISHU | | 450,055 | 868 |
| | | | | |
| 028 | ELGEYO/MARAKWET | | 180,664 | 529 |
| | | | | |
| 029 | NANDI | | 346,007 | 796 |
| | | | | |
| 030 | BARINGO | | 232,258 | 892 |
| | | | | |
| 031 | LAIKIPIA | | 246,487 | 531 |
| | | | | |
| 032 | NAKURU | | 949,618 | 1,806 |
| | | | | |
| 033 | NAROK | | 341,730 | 750 |
| | | | | |
| 034 | KAJIADO | | 411,193 | 797 |
| | | | | |
| 035 | KERICHO | | 375,668 | 780 |
| | | | | |
| 036 | BOMET | | 322,012 | 728 |
| | | | | |
| 037 | KAKAMEGA | | 743,736 | 1,497 |
| | | | | |
| 038 | VIHIGA | | 272,409 | 548 |
| | | | | |
| 039 | BUNGOMA | | 559,850 | 1,186 |
| | | | | |
| 040 | BUSIA | | 351,048 | 760 |
| | | | | |
| 041 | SIAYA | | 457,953 | 916 |
| | | | | |
| | | | |
| --- | --- | --- | --- |
| 042 | KISUMU | 539,210 | 1,027 |
| | | | |
| 043 | HOMA BAY | 476,875 | 1,062 |
| | | | |
| 044 | MIGORI | 388,633 | 826 |
| | | | |
| 045 | KISII | 546,580 | 1,126 |
| | | | |
| 046 | NYAMIRA | 278,853 | 553 |
| | | | |
| 047 | NAIROBI CITY | 2,250,853 | 3,378 |
| | | | |
| 048 | DIASPORA | 4,393 | 10 |
| | | | |
| 049 | PRISONS | 5,528 | 103 |
| | | | |
| Grand Total | | 19,611,423 | 40,883 |
| | | | |