The subsidized government of Kenya Unga is being sold in Canada as Kenyans suffer from hunger.
Photos circulated on social media show the Unga being displayed at Chakula Tamu shop in Canada as customer line up to buy the Kenyan commodity.
It's not yet known who exported the maize flour, which is intended for local use only. The government has also not responded to this sensitive information.
Chakula Tamu describes them as: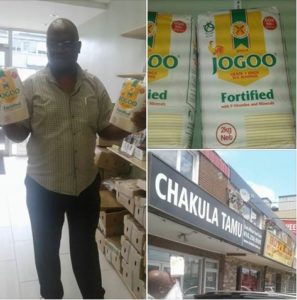 Enjoying your favorite food can be hard when you move halfway around the world. Finding special ingredients to make the recipes you grew up with in your home country can take some work. If you've been craving traditional dishes from East Africa, but aren't sure where to find authentic ingredients, visit Chakula Tamu in Toronto, Ontario.
Our family emigrated from Uganda to Canada, but we could not find our food in our new country. We wanted to find a way to get ingredients for our favorite Ugandan recipes, so we opened Chakula Tamu in our new hometown.
Chakula Tamu imports and retails East African food. We specialize in importing green cooking bananas, or "matooke," in our language, which are a staple in East African cooking. Many of our customers are people from Uganda, Kenya, Tanzania, Rwanda, Burundi, and Congo. By bringing a taste of Africa to you, we will make you feel right at home."
It's not yet known who owns the shop and how the maize flour found itself food on their shelves