Bluehost shared hosting pricing comes in different prices. The plans are suitable for small and medium websites, which receive between 0-30,000 page views per day.
Bluehost shared hosting plans are grouped into three:
Each plan attracts specific features, which are summarized below:
| | | | |
| --- | --- | --- | --- |
| | BASIC | PLUS | PRIME |
| PRICE($) | 2.95 | 5.45 | 5.45 |
| WEBSITES | 1 | UNLIMITED | UNLIMITED |
| WEBSITE SPACE | 50GB | UNMETERED | UNMETERED |
| BANDWIDTH | UNMETERED | UNMETERED | UNMETERED |
| PERFORMANCE | STANDARD | STANDARD | STANDARD |
| INCLUDED DOMAINS | 1 | 1 | 1 |
| PARKED DOMAINS | 5 | UNLIMITED | UNLIMITED |
| SUB DOMAINS | 25 | UNLIMITED | UNLIMITED |
| EMAIL ACCOUNTS | 5 | UNLIMITED | UNLIMITED |
| EMAIL STORAGE | 100 MB PER ACCOUNT | UNLIMITEED | UNLIMITED |
| MARKETING OFFERS | – | $200 INCLUDED | $200 INCLUDED |
From the summary above, you will notice that the lowest shared hosting plan goes for $5.45.This plan is suitable for a website that receives approximately 5,000 visitors per day.
Another plan, which is for big websites is GoPro,which costs $13.95 per month.This plan allows you to host several websites for only $13.95.I used this plan for a while before I migrated to Kinsta.The reason why I migrated was,when I was at Bluehost,Venas News used to receive 8,000-12,000 daily visitors,it became viral to the point of receiving 80,000 daily visitors, all organic traffic(you can see from Alexa,90 % of Venas News traffic is from search engines, I don't take social media traffic seriously)
If you have a new website, you can choose the basic plan, which goes for $2.95.This plan is suitable for sites which receive traffic not exceeding 3,000 per day.
Though shared hosting plan is good,it might limit your website from growing, especially if it receives traffic spikes. It happened to me severally when I wrote viral stories and all of a sudden my website went down because of thousands concurrent visitors. I  had to move to Kinsta,where I pay $400 per month but my site is stable-it has even doubled in terms of traffic. See statistics below.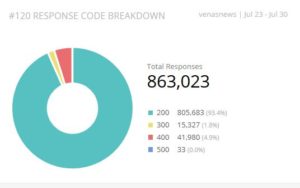 You can see from the Kinsta chat above,Venas News received a total of 863,023 visitors in one week,from July 23 to July 30.The website receives 3.5 million visitors per month,majority from Search Engine….we rarely share our stories on social media.
Here are unique requests per week

I have included this chart to show the magic Kinsta has done for this website since I migrated from Bluehost shared hosting.This site used to receive average 15,000 daily visitors,not it'a averaging 50,000.Of course I spend more but what I earn from AdSense,sponsored posts and affiliate is worth the pay.
To conclude,I would encourage you to start hosting at Bluehost and once you realize your site has reached a point where it has outgrown shared hosting,move it to a dedicated server or Kinsta.But I understand what limits many site owners is resources.What I know from experience,is that if you are receiving more than 10,000 daily visitors from search engines,you will make not less than $25 from AdSense ,unless you have poor Ad placement.