If you are joining a Kenyan university or college, you definitely need a laptop. But because of financial constraints, many of you may not afford a laptop you would want to own, which is why we give you the best option without compromising quality.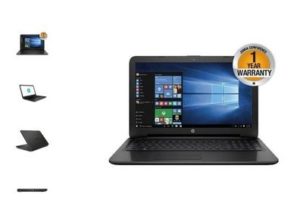 Most of the things we recommend here are those we have used or seen our associates use. We have deliberately decided so to avoid misleading readers. In this regard, we recommend HP 15 laptop, which is rare but of good quality.
Since we understand the budget of a student is Ksh20,000 to Ksh30,000,we didn't bother to review laptops that cost more than our recommended price ceiling. We believe the Ksh 26,999 the laptop costs is pocket friendly and is worth the price.
Some of you may be wondering why it costs this amount. Below are features that I looked at before recommending it.
Operating system: No OS Installed
Processor: Intel® Celeron N3060
Display: 15.6-inch diagonal HD BrightView WLED-backlit display (1366×768)
Memory: 4GB DDR3L SDRAM (1 DIMM)
Hard drive: 500GB 5400RPM hard drive
Graphics: Intel® HD graphics
If you haven't owned a laptop,I wish to clarify a bit about the features I have stated above.In a laptop, there are three features you must look at before you decide to buy one.Yhe first and most important feature is the hard drive. There is nobody who could wish to buy a laptop that can't save more than 1000 videos. Fortunately, this laptop has a total of 500GB in the hard drive, implying that you will save thousands of files in it.The second thing is the memory capacity. While most laptops of this price have 2GB of memory, this HP laptop has a memory capacity of 4GB, which means processing information will be faster than usual.
The last thing I looked at is the brand. I personally own a HP laptop- in fact I have owned 3 HP laptops since I was welcomed to the world of laptops. I couldn't be comfortable to recommend a laptop I don't own.HP is one laptop that will serve you without a problem. Even if it develops an issue, you will easily get someone to deal with the issue.
Where to purchase the laptop cheaply
Here is where I want you to listen to me.I know you might be excited by a seller in the streets who convinces you with the cheapest price in the market, but I will be honest to you, that when the deal is too good think twice. Those guys in the streets sell used laptops, which they claim to be brand new. To be safe, buy your laptop from Jumia, Kilimall,or Safaricom,where you are sure it's brand new. Here is the link to the laptop shop