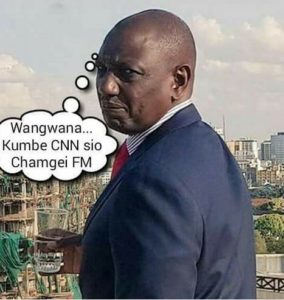 CNN was forced to cut short their interview with Deputy President Ruto after he failed to answer questions as per the host's wish.
The interview was scheduled to take 15 minutes but only lasted 6 minutes.Below are some of the questions CNN's Linda asked Ruto:
Ruto: You see my friend Linda, its Mr Odinga who came here and lied to you that the turnout was at 3.5M. They want to peddle a narrative to delegitimize the election.
Linda: Even your strongholds experienced low voter turnout. What was the reason?
Ruto: Mr Odinga has been sponsoring violent demonstrations and calling for boycott, that's why the turnout was not as high as expected.
Linda: Why are you constantly lying? Was there any demonstration in your strongholds Mr Ruto?
CNN is a multinational media house that is guided by international ethics of journalism . Any personality seeking an interview with the media is given outlines how to behave and respond , interviewee isn't allowed to create his or her own questions to answer nor do character assassination to perceived opponents .
CNN News Anchor had to Cut off Ruto short and abruptly after realizing he spent while time lying and not responding directly to facts she tabled to him.
Ruto fiascos happened when he tried to lecture the news anchor about Mr Odinga, terming him rebel leader , the anchor repeated to Mr Ruto:" Sir the facts we have from Kenya is Mr Odinga is an opposition leader, secondly IEBC records given by its chairman is 6.5 million turnout ,CNN can never be used to spread falsehood -she cut off Ruto and pulled down Ruto interview from CNN .
After Linda failed to agree with Ruto's interview, she ended the interview prematurely. Her conclusion was:"we had several questions to ask you but let's end it here!!!!"