Betway is offering you opportunity to bet for free.This is one of the few companies that offer free bets for their players.
The free bets are part of the company's history of generosity, where they ensure their customers benefit as they continue betting for their favourite teams.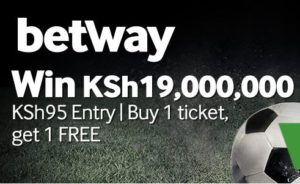 Free bets are given for people who are betting for single matches, multibets as well as jackpots. In the jackpot category, if you bet once, the company offers you an extra bet. Assuming you have spent Ksh 95, you will be offers a single bet equivalent to that amount.
If you aren't a member of Betway,sign up today and start enjoying what you have been missing. Here is the sign up link(click here to sign up)