Former Citizen TV journalist, Julie Gichuru,has defended herself from NASA propagandists claiming she was on a mission to do poison Raila.In a tweet, she said: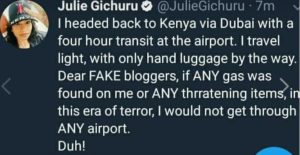 Below is a post by Faith Mutembei that explains how Raila's assasination was planned.This is the post Julie responded to:
HOW RAILA'S ASSASSINATION WAS PLANNED
While in the USA the two despots sent the NIS to track baba's activities.They would attend his meetings as messengers,cleaners and tea girls.Then it happened that the enigma was to visit Our VP in Germany.The NIS followed him collecting details of his flight,Departure time,seat number and Plane details.Two individuals were to execute the assasination by gas.One female female journalist turn peace vendor and a Kulei.That was plan A.If it failed,The People's president was to be gunned down in his V8!
Baba,like always has his intel even in their panties and boxers.Raila! He paid for two earlier scheduled flights,seats were vacant and boarded a totally different plane.They expected him to land at 11:00Am but baba the mysterious one landed and caught them off guard.He changed the flight and flight route from klm direct to Kq Via Dubai.Time to execute plan B:Pulling the trigger
As they reorganized to kill Rao in his V8,A sleek crystal white Armored Range Rover cruises in and picks The People's president! Desperation crawled in.Now,I don't know how many times you have seen baba in a sweater especially when mingling with his supporters.Today in the scorching sun baba was in a sleeveless jacket.That was a bullet proof jacket! So was Winnie and Raila Junior.The whole family in bullet proof jackets.When things proved thick,the sniper had to try his luck.As baba waved at ecstatic crowds at Landhies Road,a trigger was pulled.The multitude shielded him and accidentally,the bullet hit his windscreen.Thanks God it was an Armored Range!
One of our cameramen took an exclusive Photo of the sniper assassin!