Jubilee government has been accused of begging foreign countries to congratulate President Uhuru Kenyatta.
Financial Times,a leading newspaper in UK reported that the UK government was approached by Kenya's representative to the country, begging the leadership to congratulate him.
"The Foreign Affairs ministry is seeking congratulatory messages from Western capitals after the Supreme Court upheld the re-election of President Uhuru Kenyatta in last month's repeat election, the Financial Times reported.
The publication revealed that diplomats from several countries said Nairobi had sought congratulations from their capitals.
It captured an e-mail from Johnson Weru, Kenya's ambassador to Brussels and the European Union: "Following the Supreme Court of Kenya ruling early today and which has upheld the victory of President Kenyatta, I am kindly requesting your indulgence in preparing and dispatching a suitable congratulations message. I am at hand for any quick consultations."
Normally, the messages are not prompted by the recipient country."
Yesterday, Jubilee Digital Communication Director posted a letter purporting to be from Israel President Benjamin Netanyahu.The letter was dated November 2,2017 and had a forged signature. Minutes later, Netanyahu replied in a Tweet denying he had sent a letter to President Kenyatta.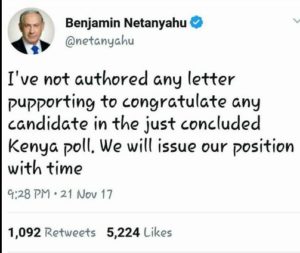 Until today,only Museveni and Nkrunzinza have congratulated President Kenyatta.