Sasha Seraphine Mbote is the name of the woman photographed with Raila in Zanzibar, Tanzania.
The lady is a Kenyan from Nyeri who is living in Tanzania-she is an entrepreneur. It happened yesterday that she was busy working when Raila came to the hotel. Sasha requested to take photos with the former Prime Minister.Raila,being nice as he is, agreed to take pictures.
Sasha managed to upload the photos on her Facebook page.
Immediately Kenyans saw the photos on Sasha's page, they shared them on their social media accounts, but the message was different.
Here is the photo of the lady.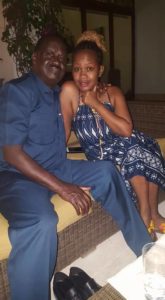 This is the post from a fake account that everyone was talking about