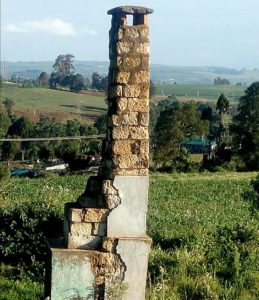 This chimney, taken from atop a stone water storage tank, is one of the two relics that defiantly remain of our farm house in Molo. The house had been built in 1974 and we took up residence in December of that year. My siblings and I knew no other home, but all this was reduced to a shell in the aftermath of the 1992 politically instigated ethnic pogroms. In the far ground is the Nakuru-Eldoret highway and among the trees near the road is another relic of a house that belongs to the family of Court of Appeal Judge Kathurima M'mnoti.
Last night, my eyes teared up when I saw the burnt out shell of a house belonging to a Jubilee supporter in Kisumu. The 56 year old, a Luo as the attackers, who is soon retiring from the civil service, is now technically a destitute, with no roof over his head. One could feel how he was steeling himself from breaking down. It is very devastating to see a grown man in that state. I feel for his family. We have been there, seen and felt it all, up close and personal. It is not something you can wish on your worst enemy.
If you have never seen a grown man weeping in hopeless desperation in front of his family, only calling out to God, think twice before joining a gang to attack a neighbour whom you have lived with all your life just because you don't agree politically. I can assure you that the prayers by such a man goes directly to God and in His infinite wisdom metes out the revenge, slowly but painfully.
The events of April 1992 remains the most haunting, confidence sapping and most traumatic episodes of my life. I still remember the tears welling up in the eyes of my father and other elders in the village. (Many, including my father, have since passed on). Most of us able bodied men could only smart away from the events in public but privately shed tears of desperation as we asked God, why? Those who visited pain on us today openly confess of how both our fortunes have gone in opposite directions. I heard the Kisumu man say: "Yote nawachia Mungu." That prayer landed before God pronto! If you were among the goons who vandalised and burnt out that house, seek God's forgiveness, you shall never know peace.
The houses beyond the chimney belongs to our then hostile neighbours. One was my desk mate in lower primary school until he transferred to another school in 1980. Despite being my friend, he was active on the night of April 24 1992. Today whenever I visit the farm, he invites me to his house (which incidentally has a beautiful ceiling made of T&G timber vandalised from my own house) and we enjoy copious cups of Mursik. He is terminally ailing, two of his brothers have passed on from similar ailment. A neighbour of his is clearly not right upstairs. Early this year, I met him wearing a rubber shoe on one foot and a leather one on the other. My heart aches whenever I meet them.
The neighbour always confides in me how he wishes he could rewind the clock and live the life we had pre-1992. I always look at his eyes, and see the genuine regret, when he apologetically tells me "Kumbe vitu vya kuiba hubeba hata kile chako ulitafuta kihalali?" After 1992 he had two matatus and a personal car. Today he struggles to raise 20 bob to board a matatu to the nearby shopping centre.
My only encouragement always, in view of his current circumstances, is not seeking forgiveness from us but making peace with his God, we have moved on and forgiven, unconditionally.
The grace of God has been more than sufficient.