Bluehost is running one of the most attractive promotions. The promotion is dubbed Black Friday and is giving website owners an opportunity to spend $2.65 per month to host their websites.
If you are a blogger who is tired of your current host, this is the best time to migrate to Bluehost, and if you aren't aware,Bluehost is the leading web hosting company in the world.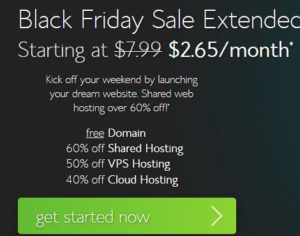 Bluehost has several hosting plans, which range between $2.65-$500 per month. As a new blogger, you will sign up for the lowest plan and gradually advance as your traffic grows. To sign up, you simply follow this link(Click here to sign up)
During the sign up process, you are required to pay through Visa card or Masterdard.If you have ATM card that is VISA or Mastercard enabled, you will find it easy to make payments. Once you have paid, you will be required to migrate your website to Bluehost.The process might be hectic and if you find it impossible, contact us for help.
Bluehost guarantees 99.99% uptime, which means your website has minimal chances of going offline.
Most web hosting companies restrict your traffic and in most cases,if your website exceed resources allocated to it,the hosting company suspends it-this is not the case for Bluehost.In Bluehost,if your site exceeds its resources, you are advised to upgrade to a more advanced plan.Another thing you may not be aware of Bluehost is that you are allowed to host more than 1 website in a single shared hosting plan. For instance, if you have 10 websites, you can buy shared plus plan ,which allows you to host all your website in the plan.