Drivers have revealed the exact cause of accidents in the most dangerous black spot in the world, Salgaa.According to one driver, there is a notorious ghost that appeared in the middle of the road especially when a truck is speeding. This ghost appears in a form of a woman, who is carrying flowers.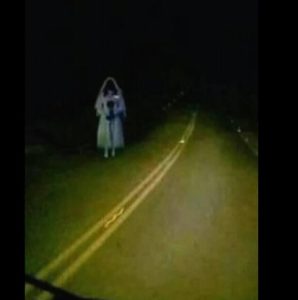 The driver adds that whoever gives the ghost way, meets his death, plus the passengers he is carrying.The driver also reveals shocking details that Illuminati is behind the ghost and its intention is to drink people's blood
"If you have been to Salgaa/Sachangwan immediately an accident has occurred, you will only see traces of blood. Most of the blood is consumed by the ghosts", the driver concludes.
Here is the photo of the ghost