As a norm, Venas News reveals the number of visitors to the site; this is done month after month. In December 2017, we received a total of 8.3 million visitors- this is despite December being a holiday season when most people are offline.
What was more encouraging from our traffic numbers is that we had 75% returning visitors, which means at least 5 million readers never quit after reading any of our stories.
From the Google Analytic report, we had over 4 million users and 98.7 % organic traffic…our Facebook page has 6,000 likes
This report is particularly for bloggers who are struggling to gain more readers to their blogs. If you are reading this and you wish to gain more readers, here is what to do.
Improve your SEO ranking by using SEMrush tool (Click here to sign up for free)
Sign up for ConvertKit to achieve more  subscribers.ConvertKit will enable your readers to receive new stories whenever you publish them (Click here to subscribe for free)
While you publish regularly, I know there are few things you don't understand, which include the correct use of long tail keywords. If you are poor in this, your competitors' articles will rank better than yours. What I have used over time is Long Tail keyword tool. This tool provides several keyword suggestions, which makes it easier for me to create searchable content. If you want to sign up for this, here is the link (click to sign up for free)
The last and most important thing is your site lo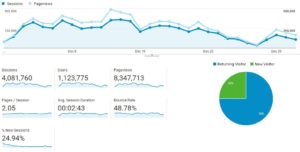 ading speed. A site that takes time to load is a no go zone for readers. Our readers are very impatient, if they discover that our site takes forever to load, they will move to another site that loads faster.
We have ensured that no site loads faster than ours. We made this possible by choosing the right hosting company. This year, we moved to Kinsta and so far, our traffic has improved from 30,000 to 500,000 per day.Kinsta's cheapest plan is Ksh3,000 per month. If you also want your site to grow, you can move it to Kinsta through .They will help you in the migration process for free.