Fredrick Onyango Ogola,who is a lecturer at Strathmore University has killed his wife.
The lecturer was Wednesday morning arraigned at the Kibera Law courts after he allegedly beat his wife, Margaret Gobi Mwachongo, to death.
Those who saw what transpired say this:
The intention of the lecturer was not to kill the wife but to discipline her. From reliable sources, the couple were to go out ,but just as they were stepping out ,Fredrick received a strange call from a lady, one of his students ,the wife was curious and demanded to know who the caller was and  grabbed his phone, throwing away their 7 weeks baby to his chest. He retaliated by slapping her hard on the cheek ,which forced her to lose balance and fell down.The man walked away ,leaving the wife in sobs only to be called by the DM 3 hrs later that the wife was still lying down where he left her.He hurriedly came back and dropped her to the hospital only to succumb to injuries later on at midday.
After he did the act,Fred regretted on Facebook:
"To my friends on FB, what happened was too painful that I have been unable to believe and that's why I didn't update you, my lovely wife left me and went to the lord. It's so hurting in as much as it is hard to express. Rip my love"
Before Margaret died, she had posted this on Facebook:
"Welcoming 2018 with full of joy and happiness.."
This was her last photo on earth…very innocent lady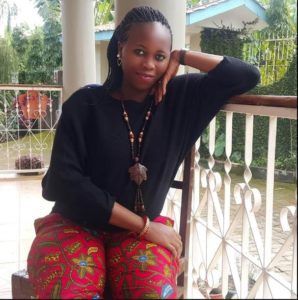 Here is the photo of Fredrick,the man who slapped his wife to death: