H&M, one of the world's leading fashion companies, has withdrawn from selling a children hoodie after the above photo of a little boy modeling it sparked outrage. The child's image was labeled ''racist'' and disgusting after it appeared on an online shop. Many people are calling for shoppers to boycott the shop.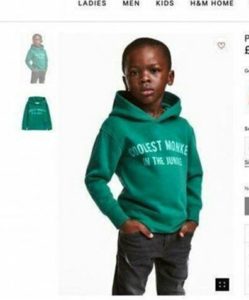 The photograph shows a young African black boy modeling a hoodie with the slogan ''coolest monkey in the jungle''. Which did not go well with people on social media world over;Manchester united footballer Romelu lukaku also got involved in the row by sharing a digitally version of the ad which said ''black is beautiful'.
A pop star singer called the weeknd also blasted the clothing giant for the picture and has cut all ties with the company saying he was shocked, offended and embarrassed. H&M has however removed the hoodie from sale completely and has posted an apology on their Instagram and website page.  '' we have gotten this wrong and we are deeply sorry. We have a responsibility to be aware of and attuned to all racial and cultural sensitivities and we have not lived up to this responsibility this down. This incident is accidental in nature, but this doesn't mean we don't take it extremely serious or understand the upset and discomfort it has caused. We have taken down the image and have removed the garment from sale, we shall do anything to prevent this from happening again in future. We at H&M are deeply sorry that the picture was taken, and we also regret the actual print. Therefore we not only removed the image from our channels, but also from our product offering. We shall thoroughly investigate why this happened to prevent this type of mistake from happening again.'' Racism and bias in any shape or form, conscious or unconscious, deliberate or accidental, is simply unacceptable and need to be eradicated from society. In this instance we have not been sensitive enough to this agenda''. Please accept our humble apologies.