Two days after a woman in Nairobi reported that Colgate helped her get rid of pimples, many women rushed to use the toothpaste.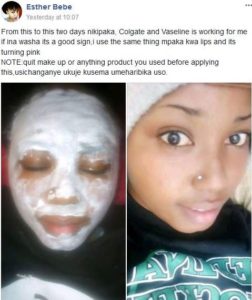 Today, several of them have reported a massive change in their facial outlook. One Mrs Jane who had been embarrassed of her persistent pimples said:"I have good news for you,my pimples are slowly disappearing. Let me continue using it and I will report my experience after a month "
Esther, who also vowed to take a risk, reported: "Imagine I can't believe my face is getting smooth!"
There are also other women who have agreed that Colgate is a good remedy for pimples.
How exactly do they use this toothpaste to get rid of pimples? Here is a simple procedure:
Wash your face thoroughly with water. Leave your face to dry and then squeeze some Colgate onto your hands and apply it on the face the same way you apply any cosmetic. Leave it to dry for an hour, then wash your face again. Repeat the same procedure the following week, month and until the pimples completely disappear.