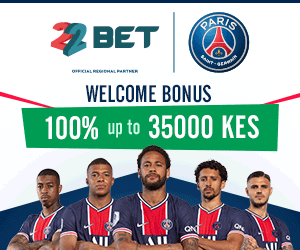 I have studied several; betting options and came to realize that there is one option which you can pick and be assured of not losing your money. If you have Ksh20, 000 you want to bet for, leave all other options and pick this one.
Go to a section where it indicates how many goals will be scored in the game. If both teams are strong, indicate less than 5.5 goals will be scored. Under normal circumstances, you can't expect Barcelona and Real Madrid to score each other three goals. In a game like this, you can bet with the maximum amount and be assured of reaping big.
In today's match, Chelsea is playing against Watford. Given Chelsea's current poor form, it's almost impossible for it to score 4 goals;furthermore,they are playing away. This is the game you should indicate that less than 5.5 goals will be scored and actually be assured of getting your money.
For individuals planning to bet today, place this option and tell me good news tomorrow. If you want more good news, bet at 1XBET and get 200% bonus on your bet amount. Click here to sign up