Gearbest, one of the best E-commerce shops, is offering amazing discount for Infinix Note 4 Pro.Infinix Note 4 Pro, as you're aware, has taken the market by storm, millions of smartphone lovers have ensured they own the phone. But what excites them most about this gadget? Here are proven answers: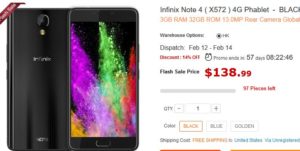 Key features:
Display: 5.7″ IPS LCD Screen
Camera: 13MP Back + 8MP Front
Storage: 3GB RAM + 32GB
Operating System: Android 7.0 Nougat
Before you purchase any smartphone, there are three features you must look at, that is, battery capacity, storage capacity and camera MPs. Extra ordinary phone like Infinix note 4 Pro has extremely powerful battery…imagine 4300mAh.The battery capacity of an average phone is 3000mAh.With Infinix note 4 Pro, you don't need a power bank-it's battery can last up to 4 days.
What will excite you most about this phone is it's internal storage capacity. While most of us prefer memory card slot, in this case, you don't need one since 32GB is already so much.
For selfie lovers, you will be thrilled by the clarity of photos taken by the Infinix note 4 Pro.The front camera is 13MP and Selfie camera is 8MP…this is wonderful!
Now,Gearbest is running a promotion where each Infinix Note 4 Pro is going for $138.99.This is the best price you can get in the market.I have checked Jumia website and this particular phone is going for $200,which is $60 more than the price attached to the phone at Gearbest.For a normal person,you will always go for cheap but quality,which is what Gearbest is offering.
How do you purchase Infinix Note 4 Pro from Gearbest?
You first have to make your order from Gearbest through this link.The company will then process your order and deliver the phone within 14 days.Gearbest has a history of delivering the best, which is why the company's growth has been monumental.