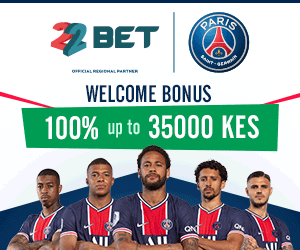 Since the incorporation of Sportpesa, several other sports betting companies have emerged. But as they join the highly competitive market, there are those whose popularity has soured and those whose popularity has fizzled out.In 2018, these are the most popular sites in Kenya
Sportpesa
Sportpesa was formed in Kenya by a group of aggressive entrepreneurs. The company has since cut a niche for itself as the most visited sports site in Kenya.Currently,Sportpesa receives over 300,000 visitors per day.
One thing that makes Sportpesa so popular is its Jackpot amount. So far no other company pays over Ksh230 million in jackpot cash prizes, it's only Sportpesa.
Betin
Betin is second most popular sports betting site in the country. Its existence in the country has forced Sportpesa,the main rival, to be more innovative so as to remain afloat.Betin has several appetizing offers, which include:
Free deposits.
Best virtual matches. The virtual sports betting section allows you to bet 24 hours a day on tennis, football, dog and horse racing.
A casino with online games. From Roulette to Blackjack and from Cards to Dice games
A 50% accumulator bonus.
Over 300,000 players visit Betin site daily
1XBET
1XBET is another sports betting site that has grown tremendously. The company is less than two years old in Kenya but its growth has been amazing.
1XBET's growth is attributed to several promotions the company runs on daily basis. Some of the mouthwatering promotions include;
200% bonus on your first deposit
Ksh10,000 when you join the betting platform
Millions in daily jackpot prizes
To join1XBET and get the bonuses, here is the link
Betway
Betway is also another betting site you won't ignore. Started in Kenya less than 3 years ago, the company has seen its players grow in numbers to surpass 500,000 mark. The good thing about Betway is that it allows one to bet during live matches, which means if you placed a bet be before the match started and you realize your team is losing, you can chase the money by engaging in live betting
Another promotion I like in Betway is one they require that you select a team that will score first and win Ksh50, 000…they usually reward three people.
For you to bet at Betway, you have to be a member. You can click here to join
I have purposely selected the four betting sites because they are the most reliable and established companies. Each of the betting sites has a history of not disappointing players. The companies' popularity has grown because of several factors known to players, some of them are:
Honest
Best jackpot prizes
They pay players in time, through MPESA
They don't defraud players
They have excellent customer services
They have offices within Kenya where you launch your complain
Currently, there are over 20 sports betting sites in Kenya but only a few have managed to remain afloat, others are planning to wind up.