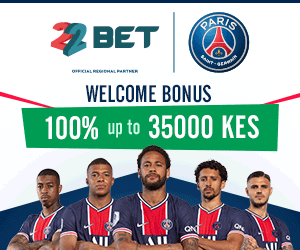 There are three games which have the best odds .If you bet for them and your bets go through, you can earn up to Ksh 5,000.
The matches have odds of 2 and 3 and for you to get one of them correct, you have to be very lucky.But here is how to bet for each game.
Athletic Bilbao vs Valencia
The odds for this game are 2 against 2, which means they have equal strength.If I were you,this is how I could bet for this match:
Athletic Bilbao win
First half draw, Athletic Bilbao wins full time
Lazio vs AC Milan
There are two likely here,AC Milan to draw or lose .A win for Lazio is highly likely.
Since you want to risk, just put a win for Lazio
Elbar vs Villareal
Elbar win
Those are high risk games, where chances of losing your money are high, but if it chances that you get all three correct, your week will be made.
To reduce your chances of losing,click here to sign up with 1XBET,place your bet and get 200% bonus