Sometimes back,I was planning to buy a digital television, but I didn't know exactly which TV I would go for since Sony and Samsung fit perfectly into my taste.I had to seek advice from my parents. Over time, I have managed to own several brands, which include Sony, Samsung, Hisense and TCL.I would explain my experience with Sony and Samsung.
Price
Let me single out Sony 32 inch digital flat screen. The current price is Ksh28,000.Samsung costs Ksh21,000 at Jumia.Which means if you go for Sony, you will pay Ksh7,000 more at Jumia.(you can check the price here).Recently I was at Luthuli Avenue and the difference is the same.
If price is one of the key determinants in purchasing a television in Kenya, then Samsung will be the best bet.
Quality
The reason why Sony televisions are more expensive than Samsung is quality of their features. It's estimated that in a Kenyan home, the lifespan of Samsung is 10 years while that of Sony is 15 years. Having known that, buyers will definitely prefer Sony over Samsung.
Internet connectivity
Most people in Kenya, particularly Nairobi, prefer smart televisions. These are televisions that accept movie streaming and internet connectivity. When you compare Sony and Samsung in terms of internet connectivity, both are superb. In other words, there is no significant difference.
Counterfeit products
In Nairobi, when buying a television, make sure you purchase form a shop you trust most. Most shops would sell a counterfeit Samsung TV and they will convince you it's genuine. It's easier to have Samsung counterfeit TVs than Sony because most prefer Samsung over Sony due to price.
If possible,I would suggest that you buy from renown companies like Jumia .If you visit Jumia website, you will realize that their televisions are extremely cheap, cheaper than how they are priced by your local shops(you can confirm prices here)
Image quality
The difference between a TV and Radio is the images you see on the screen. The clearer the images the better. The reason why Sony televisions are more expensive than Samsung is because of the image quality: Sony televisions display the best images…none of the TV brands in Kenya come close to Sony.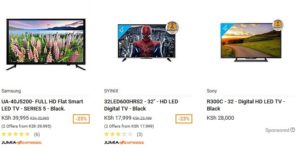 Conclusion
If I were you,I won't mind the price;I will go for Sony televisions.
If you need a Sony TV today,you can buy it online from Jumia through this link