I feel like committing suicide, my heart is not in piece. On Wednesday, something happened to me in my house which I witnessed with my own eyes.
I work in Rongai in a Chemist and my wife sells clothes in the same town. We got married in 2011 and we are blessed with three children. To be honest I love my wife with my whole heart,I even give her my ATM to withdraw money, though my salary is small(Ksh 23,500)
I always report at work at 6.30 am and leave at 8.30 pm.During the day I am not able to see what is happening in my house. My wife too leaves the house at 6 am and returns at 7 pm.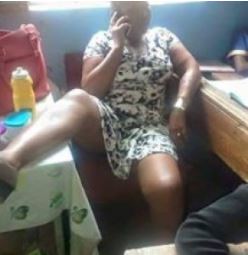 I trust my wife because I know she won't cheat on me.Ever since I knew her,I have never detected any strange behavior or call from a man.In most cases she leave her phone with the children to play with it.But mimi amehahi nipata with a girl and I told her it's my former classmate who paid me a visit in my work place. My wife caught us in a hotel near Tuskys Rongai.She understood, but I knew I had cheated on her with the girl…more than thrice.
On Wednesday I woke up as usual to go to work but something happened on the way.I got a small accident with a motorbike while trying to cross the main road. My trouser was torn so I had to return and change. But on reaching near my house,I realized there was a man talking.I became keener since I had left my wife only and wasn't aware there was another visitor coming.I wanted to know what was happening. I went straight to kitchen where I could listen to what was happening in my bedroom.Kidogo kidogo nilisikia, Aki Mogaka wacha, wacha, wacha nitoe,God Help Me,Goooood".I became more keen and this time the man said,"hii ni utamu ya yesu,wacha nilambe lolo ndio usikie mchemchem".My body reacted as I heard that.I lost my energy and tears started flowing.I had to learn on the door as more sounds came from my bedroom.I couldn't persevere as I heard the man thank his ancestors,"hii kitu ni tamu,nikulipe ngapi ndio niende mbili?"At that time I lost patience and opened the bedroom door.
here is the best betting site in Kenya
What I saw left me in more tears.My wife was completely done and the man was preparing for another turn….it was raw imagine!!!Looking keenly, it was a Rongai Manamba who had invaded my house.He was masculine,so I was helpless.When I heard akisema "nitakuua" nilikimbia.
Since that day I have not seen my wife in the house.I don't know what to do yet I have invested a lot in her.