Last week,my cousin wanted to purchase an infinix phone, she had Ksh10,000.I visited Jumia,Masoko and Kilimall to review prices of  Infinix smartphones.Normally,when I am looking for a good smartphone,I keenly review battery capacity, storage capacity and camera. Of all the phones,Infinix Hot 5 caught my eyes,and I will tell you why.
What I hate in a phone is one I charge every hour; I better spend Ksh 100,000 in a phone and be satisfied with its battery life than spend Ksh5,000 and regret forever. Infinix Hot 5's battery capacity is 4000mAh, which is 1000mAH more than other brands of the same price. The moment I realized this phone has a battery capacity of 400mAh,I stopped searching—but I wanted to know about other features.This is what I found out:
Screen: 5.5-Inch HD IPS
Memory: 1GB RAM, 16GB ROM
CPU: Quad-core 1.3GHz processor
Operating System: XOS Based on Android 7 Nougat
Camera: 8MP Rear, 5MP Front
Battery: 4000mAh capacity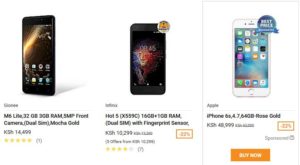 The camera is tops, internal memory is 16GB and processor is super-fast.Ideally,there's nothing that can prevent you from buying Infinix hot 5.What about the price?Ksh 10,299 at Jumia and Ksh10,500 at Luthuli Avenue,Ksh13,000 at Masoko and Ksh 11,000 at Kilimall.Comparing the 4 locations, you will either buy from Jumia or Luthuli Avenue.But make sure when you purchase from Luthuli,you have a sale warranty and the phone is from a reliable shop.We strongly advise you to buy from those guys who sell to other electronic shops as opposed to those who sell to final users.
Since Jumia has genuine phones,it's good to order this phone from there. To make your work easier,we have a link to the phone at Jumia website.Click here to visit the site