Infinix Note 4 is the smartphone trending in Kenya today.Over the past 12 hours more than 1,000 Kenyans have purchased the phone and the greatest beneficiary is Jumia.
Over the past 1 year,Infinix has dominated the smartphone market and it's due to reasonable price and excellent features.Infinix note 4 had a wonderful reception in Kenya and it continues to attract the attention of mobile users. The phone contains the following features:
Display:  5.7″ FHD, 2.5D
Storage: 2GB RAM + 16GB
Camera: 13MP AF + 8MP FF
Battery: 4300mAh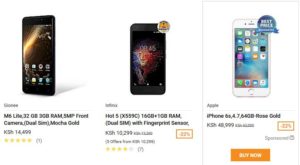 The camera, battery and storage capacity are all quite fantastic.It's hard to get a phone with a battery capacity of more than 4300mAH;fortunately,Infinix note 4 is in this category.
If you have Ksh 14,000 you want to spend in a phone, buy this smartphone.For those planning to buy online,visit Jumia website through this link and make an order .The smartphone costs Ksh13,999