Sometimes living in Kenya as a regular citizen is more painful than being in a police cell.A patient was admitted at Aga Khan Hospital Kisumu and here is the bill he got after 4 days:
"Honestly I just don't understand how in God's name African countries, I'll speak of Kenya 🇰🇪 for instance citizens and residents are heftily taxed but health care is expensive expensive. Government administration can't even deliver . Why can't we come together and speak against it example and demand for change d👉🏾👉🏾👇🏾👇🏾
""Medical care in Kenya is very expensive and can make u loose all your hard earned savings and be officially declared bankrupt. Kindly save for it. Most insurance farms fear covering people above 70 yrs.
My dad (73 yrs) who we burried last Saturday, May 28th was admited at Aghakan hospital Kisumu. He died exactly after four days only leaving us with a medical bill of 907,658. Every single day at ICU was costing us over 250,000 a day and he was there for 2 days and 2 days in ward. I wonder how the situation could be if my dad stayed in the hospital for another 3 weeks.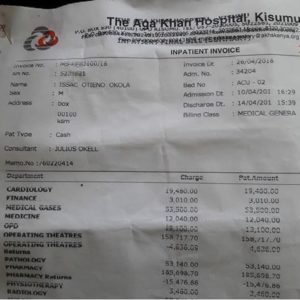 Through support from relatives and friends we raise 590,000 a week after his death. We go with the money to the hospital. On top of money I carry two of title deeds wort over 1m, a log book of a car I bougt 750,000 two years back and payslips and letter from my employer commiting they will be deducting the balance that will remain after paying 590,000 and remit to them until we clear. Log book and title deeds were to act as securities.
To our rude shock we are directed to their credit unit manager someone called Yala 0720831737. His response was "the only language Aghakan knows is money. There is a body we have held for 4 months now due to unpaid bills and their family will have to clear the bill b4 the body is released. We can not exemp you coz they also broygh securities and we rejected. The only favour Aghakan can give u is to continue keeping the body as you search for money.
Friends and relatives advice me and we hold a fundraiser and this time we get money enough to clear the bill plus meet the funeral cost. That is the most traumatizing thing I have ever gone through in life and mark u my my employer has insured me with AAR and one of my hospital is Aghakan. I feel traumatised whenever I see the hospital. Over 900,000 in four days and u ask how and u are told ur dad was being attended by 5 specialised doctors at any given time and they all need to be paid at a rate of almost 50k in less than an hour. I still remain a miracle how we managed and burried dad on time, exactly 2 weeks after his death"