There was this day, a Sunday afternoon we had just come out of church and there was information that President Moi was going to pass by and was likely to stop by near the church which was built just next to Nakuru – Kericho highway.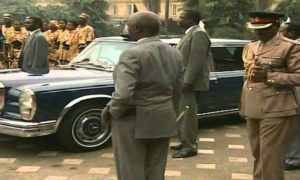 As we were standing at the road waiting for Moi's convoy to arrive, the pastor suggested they needed a young boy who would greet the president on behalf of all the children and receive "Maziwa ya Nyayo" just in case there were some.
Since I was the only one wearing a suit, the late Madam Lucy quickly picked me saying that I looked "sharp"and I was always disciplined, then I was told to stand a strategic position next to the chief.
Then after like an hour of waiting, comes President Daniel Toroitich Arap Moi himself. He came straight to me and gave me a handshake. Waaaaah! I could not believe it. You don't know the kind of smile I gave him.
He looked very tall, I had only seen him "on money" and on KANU campaign posters that my dad kept in the house.
After the handshake then President Moi himself asks me, unaitwa nani? "Penat Cheryot" I quickly replied. "Very good. Mutapewa appointment mukuje Kabarak next week. Wapi baba na Mama yako?" he said to me. I didn't even know what he meant by the term appointment. I thought maybe it's money, matatu fare to his Kabarak home.
I looked around and saw my mum standing some meters behind me. As I had been surrounded my men wearing suit. Then I called my mum; "Mama! Mama! Mama! Mamaaaaa"
I heard her responding from the bed (as I used to sleep on the floor)… She woke up so quickly shouting "nee?Kalyan?" (What is it?)
Then she "mulikad" me using a torch and she noticed I was just dreaming then went back to sleeping.
That's how I was "blocked" from meeting President Moi in the year 1998.