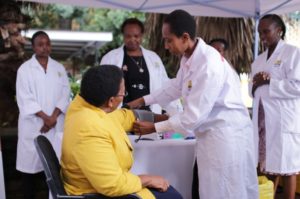 Yesterday, May 17,2018, the Kenya Cardiac Society in collaboration with the Ministry of Health, Healthy Heart Africa and other partners who lead the fight against hypertension in Kenya, joined the world to mark World Hypertension Day (WHD) through activating awareness activities in Nairobi.
The event took place under the umbrella of the Pima Pressure campaign, a month-long awareness campaign marked during the month of May. Globally, the campaign is referred to as May Measurement Month and is observed with a goal of conducting blood pressure screenings and creating awareness on hypertension.
Locally, the campaign includes a nationwide screening drive geared towards testing as many Kenyans as possible to identify those with elevated blood pressure, in support of the Government's aim to step up the fight against cardiovascular diseases.
World Hypertension Day is a day dedicated to increasing public awareness of hypertension as the number one contributing risk for global death. Globally, WHD's theme for 2018 is "Check Your Pressure" with the goal of increasing high blood pressure awareness in all populations around the world.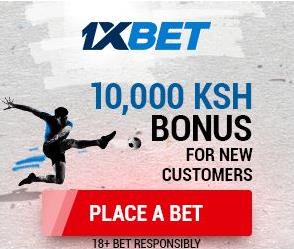 "Today we have joined the world to continue driving awareness of hypertension in Kenya. Hypertension is a burden on Kenya's economy and the society that we cannot ignore. In Kenya, only one in five persons are aware that they have high blood pressure, only one in 10 of those who have hypertension are on treatment while only one in 20 of those who have hypertension have control of it. The need to raise Kenyan's awareness on hypertension is most urgent," said Prof Elijah Ogola of the Kenya Cardiac Society and Secretary General of the Pan African Society of Cardiologists.
This year, Kenyans were cautioned against unhealthy lifestyle choices which are a key risk factor contributing to the rise of hypertension. Behaviours such as smoking, excessive alcohol consumption, sedentary lifestyles and unhealthy eating habits are some of the risk factors that were flagged. According to the National Stepwise Survey of 2015, 27 percent of Kenyans are either overweight or obese with women being more affected than men[i].
"We would like to urge Kenyans to take an active role in achieving the goal of a healthy nation. The day-to-day lifestyle choices we make play a role in our health status and we hope that we can make right ones such as consuming healthy diet, staying physically active and avoidance of tobacco and alcohol," said Dr Jackson Kioko, Director of Medical Services, Ministry of Health.
Nationwide blood pressure screenings in select centres will continue throughout the month in partnership with organisations such as Healthy Heart Africa (HHA), Kenyatta National Hospital, Christian Health Association of Kenya (CHAK), Kenya Conference of Catholic Bishops (KCCB), Amref Health Africa in Kenya, the Aga Khan University Hospital and PATH. All of these organisations carry out vital work, from screening of individuals, to raising awareness on the dangers of hypertension, to training healthcare workers.
"We have much to be proud of on this World Hypertension Day given the notable achievements of the Healthy Heart Africa programme. Our learnings continue to indicate that awareness is a critical pillar in the fight against hypertension and NCDs in general, as it plays a crucial role in prevention and ensuring timely treatment," said Ashling Mulvaney, Senior Director of the Healthy Heart Africa programme.
World Hypertension Day activities were marked in various towns including Nairobi, Mombasa, Kisumu, Eldoret, Thika and Embu. In Nairobi, doctors played a friendly rugby match with the Kenya Harlequins rugby team as part of the campaign to lobby Kenyans to make healthy and active lifestyle choices.
Last year, over 100 countries took part in May Measurement Month and over 1.2 million people had their blood pressure screened globally. In Kenya, 13,000 people were screened and this year, the Kenya Cardiac Society together with its' partners aim to screen over 30,000 people.