Nairobi has a total of 72 estates and each estate has its own unique features. Prostitution, the oldest professions in the world, is rampant in low income estates within the city. But for a man who is hungry for sex and pleasure, looking for estates with most prostitutes is his joy. Based on research, below are estates with most prostitutes and where you can get sex for free.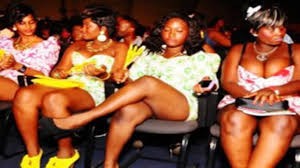 Kayole
Kayole the home of Jacinta Adhiambo is the leading in terms of prostitution.Most prostitutes you see in Sabina Joy and Koinange Street either come from Rongai,Kayole or Githurai.
If you make a point of visiting Kayole at night,you'll meet several thighs ready to offer sex in plenty for as little as Ksh 20.Immediately you land there, you will hear them say,"kuja uweke mara moja,kuja pliiz".When you ask how much, they'll reply,"it's Ksh200 but tutaongea.And when you say that's a lot,they'll be like,"leta 20 na usirudie"
Kibera
Kibera is the biggest slum in Africa and one that houses over 100,000 Kenyans. Prostitutes in this shanty estate will openly come for you and offer free sex.Poverty is the cause of prostitution in Kibera.However, there are women who engage in prostitution out of peer group influence.
Githurai
Githurai is along Thika Road and one populous estate. Here girls from Kenyatta University spread legs like rumours as others disappear to town to look for sponsors.
If you manage to board a Githurai bus from Nairobi CBD at 6 am,you'll be shocked that majority of the passengers are tired and drunk women,and if you take a keen look, you'll be surprised that most of them are KU students.
Rongai
Perhaps you have wondered why Rongai matatus charge Ksh 150 from town to Rongai.There are too many prostitutes who are willing to pay up to Ksh200 to reach safely with their harvest.
Rongai is a decent town but inside the estates are women who are willing to offer cheap sex….no wonder pubs are mushrooming everywhere.
Kariobangi
The average cost of sex in Kariobangi is Ksh30.It's here you'll get the poorest Kenyan living.
Kitengela
If you thought prostitutes could spare Kitengela then you're wrong. The unique thing about Kitengela is that prostitutes here are a bit expensive. The average cost of a shot in the town is Ksh 300.
Kawangware
We couldn't finish this article without mentioning kawangware.While the average cost of a single room is Ksh 3,500,most women living here won't afford. It forces them to do prostitution as one of the sources of income.Some women from Kawangware travel as far as Lavington and Kilimani to do prostitution…and they succeed.
Pipeline
Pipeline is the most popular estate in town. Currently, over 100,000 women live here.The dominant tribe in Pipeline is the Kamba who love men to death. At pipeline, you'll get sex for Ksh100,or even Ksh50 when things are thick.
Kangemi
The last estate to be featured here is Kangemi,a slum near Westlands.One shocking thing is that most women you see in Kangemi live off prostitution, they move all the way to westlands,Kitisuru and surrounding estates to seek men who are ready to pay for sex.During the day Kangemi is quiet but at night,women are as vigorous as bees.