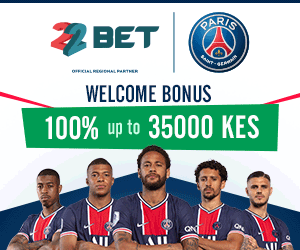 Kenya Defense Forces is employing General Service Officers(GSO) Cadets who will join the institution any time this year. The vacancies are available to individuals who attained grade B(plain) in KCSE with at least C+ in English and Mathematics.
If you manage to join KDF,your starting salary will be upwards of Ksh40,000 during training and upon completion of the mandatory two year training,you'll start earning Ksh 80,000 and above. Cadets rank higher than the normal KDF officers,which is why entry grade is always high.If you're a graduate,grab this opportunity and you won't regret.
GSO Cadets Job Requirements
Must hold a  minimum mean grade of B (Plain) in KCSE with at least C+ in English and Mathematics and one science subject. The initial training period for this category will cover three (3) continuous years leading to BSc in Military Science and Security Studies on Successful completion.
Must be Kenyan citizens and should not have dual citizenship.
Between 18 and 26 years old.
Be physically and medically fit in accordance with the KDF standards.
Have no criminal record.
Minimum Height: Men: 1.60 m (5ft 3in) and Women: 1.52 m (5ft).
Minimum Weight: Men: 54.55 Kg (120 lb) and Women: 50.00 Kg (110 lb).
Female candidates must NOT be pregnant at the time of recruitment and during the entire duration of training.
How to Apply
Clear photocopies of relevant academic certificates and national ID card of the prospective Tradesmen/women must accompany their applications and be addressed to the:
Assistant Chief of the Defence Forces
(Personnel and Logistics)
Ministry of Defence
Defence Headquarters
Ulinzi House
P.O. Box 40668
NAIROBI – 00100
The application to reach the addressee on or before 26th August 2018. Shortlisted GSO Cadet/ Specialist Officer will be notified through the print media between 17th and 23rd September 2018.
General Service Officer (GSO) Cadets Job at KDF
Bribery and other acts of corruption are against the law. All persons presenting themselves for recruitment purposes with fake/falsified documents or caught engaging in any corrupt activity shall be arrested and prosecuted. If you accept to be conned, you will lose your money or property and go to jail; it has happened to many citizens during last recruitments.
Do not waste your money and risk imprisonment; NO ONE can influence the recruitment process. Report any suspicious conmen to the nearest police station or a military camp. KDF recruitment is absolutely FREE TO ALL.