I am Michael and I am afraid my life could end soon. While in Technical University of Mombasa,I met Kerubo who I loved so much. We dated for 6 months and I decided she could make a great wife. At first I didn't know much about her family, but her mother used to visit her occasionally.
Last year February,I was posted to Nairobi—I work in a bank—and I decided to make Kerubo my wife. She was also happy to be my wife.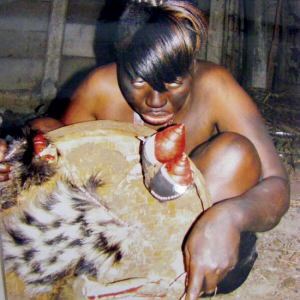 However,there is one thing that's troubling me.Kerubo stayed with me for close to 4 months without showing strange signs,but one night,I accidentally woke from sleep and I didn't find her beside me in bed.I thought she had gone to the toilet and just relaxed as I waited for her.But when I became anxious,I woke up and went to check on her only to find that she was not in any of our rooms—we live in a one bedroom house.
I decided to go and sit in the sitting room to see where she had gone.After few minutes,I heard someone running outside and when I peeped through the window,I saw Kerubo running up and down and knocking on people's doors.I decided to shout at her,"Kerubo,it's here,not there"I was just showing her the direction of our house.Kerubo heard my voice and disappeared.I decided to go and sleep.
At around 5 pm,Kerubo came slowly to our bed and slept—she was naked.I didn't ask her anything until the following morning when I questioned what she was doing outside in wee hours,she instead responded rudely that I should not monitor her movements past 12 am.That answer caused fear in me.
That day I heard people complaining that there is someone knocking their doors at night.I almost told them it's my wife but since I didn't want to invite trouble,I kept quiet.
Her habit continued for a while before I said enough is enough.One day I told her to pack and go.This is what she told me,"kama unataka kifo wewe nifukuze".I kept my cool.
For the past three months I have been monitoring her and what shocks me most is that she has several things in my house which I don't know are for what.There is a black cat,huge horn and some animal skin I don't know where she got it from.
Now I know I married a witch and I don't know how to leave her.Please advise me.